Age: 12 (12/19/2006)
Gender: Female
Country: Honduras

Needs a sponsor



...Read More



Misael Antonio Pineda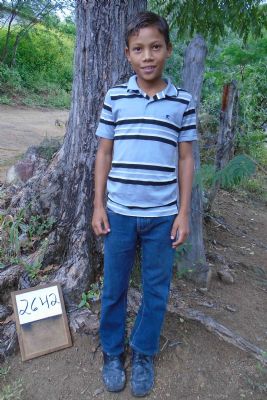 « Go back
Fully supported



Country:
Honduras
City:
Bartolo
Location in city:
Cantarranas
Age:
13 (3/15/2005)
Gender:
Male
Status:
Destitute
Support Application (368KB)



Misael, like his sister Kelin, has a unique situation. Most fathers work as farm hands and earn about $20 to $30 a week, but Misaelís dad has a little plot of land that he owns so he tries to make a living farming it. As such, he has no regular income. For the last few years he has grown enough to barely feed his family and has little left over to sell for necessities. And that doesnít mean they get three meals a day. The land in the valley beneath them is very fertile but this broken down house and farm they inherited is on poor soil that is mostly rock.

His family lives in a mud brick house that was made by hand called adobe. The roof is made of mud tiles and the floor is dirt. It is a typical house in their mountain top village. It does have four rooms however, a kitchen and two bedrooms and a common room. They only have one bed so they all sleep together. In the house there is no table or chairs or any other furniture. They do have water and since last year when electricity came to their village they have acquired a line for a light bulb.

Misael is not in school yet, he is too young. At home he has no toys to play with but he hopes someday to have a toy airplane, a toy car and a ball like the big boys. He does like to go to church every Sunday with his family at the Baptist church in her village. There he learns Bible stories and new songs. In the feeding center he will get good food every weekday to help him grow, Bible stories, fun time and even tutoring as he needs it. His mom will help him to write you monthly letters to tell you about his life so you will know how he is progressing.